Edmon Low Creative Studios: Tech to Go
The Edmon Low Creative Studios provides access to a wide variety of technology devices for students and faculty to use in their academic and personal creative endeavors. Devices are available on a first-come, first-serve basis and can be checked out for three days.
Visual Equipment
Oculus Quest 2 Virtual Reality System:
A completely standalone virtual reality experience; no computer required, no sensors to set up, or cables to trip over! Immerse yourself in a revolutionary new VR experience that you can checkout and take with you anywhere. Explore virtual worlds, attend live events, improve fitness, flex your creativity, play games, and experience multimodal learning and social experiences.
Canon Rebel EOS T6 & T7:
Ideal for users seeking to enhance their photography skills. Featuring an 18.0 Megapixel image sensor it allows for highly detailed, vibrant shots and videos even in difficult situations. A great option to take your photography to the next level.
Go Pro Hero 10 Kit:
Convenient kit includes the HERO10 Black action camera, a battery, mounting buckles, a USB cable, an extra battery, a dual-battery charger, a 64GB microSD card, a small handle/tripod, a head strap with quick clip, and a soft-sided carry case. An optional chest strap, and selfie stick are also available.
Nikon Coolpix Point and Shoot:
Nikon Coolpix point and shoot cameras are ultra-slim with Full HD 1080p video, watch or view instantly on a compatible smartphone or tablet with built in WiFi. Maximum zoom power with a 12x optical zoom and 24x Dynamic Fine Zoom.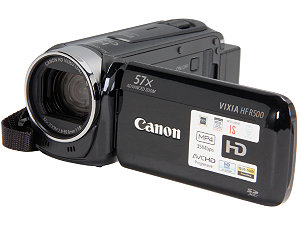 Canon Vixia Camcorder:
Compact and easy-to-use, equipped with a Genuine Canon HD Video Lens with 53x Advanced Zoom for incredible range and reach. Record Full HD video directly to a removable SD memory card that is easy to use.
Webcam - Logitech C925e:
USB webcam with HD 1080p - 30fps and HD autofocus for true-to-life clarity in a fixed 78°field of view, features dual integrated omnidirectional mics for clear and natural audio capture. Can be monitor or tripod mounted.
Compound Trinocular Microscope
This professional AmScope microscope and camera are ideal for field research, analysis, teaching demonstrations, medical and veterinary study, and lab work. It comes with 30-degree inclined, 360-degree swiveling, Siedentopf trinocular head, 3D mechanical stage and intensity-variable 1W LED illumination system. It offers six magnification powers (40X, 100X, 250X, 400X, 1000X and 2500X). The trinocular port allows you to attach the digital camera which can capture still images and video, while also allowing others to view a live stream while you work. Kit includes a slide prep kit, kimwipes, and prepared biological slides.
Microphones and Recorders
Rode Podcasting Microphone Kit:
Record high-quality vocals for podcasts and voice-over work right to computers with the RODE Podcaster, a USB microphone designed to sound great in a mobile or home studio setup. If all you have is a room and a computer, you can use this microphone to record your voice with professional resolution and clarity. Kit comes complete with a table mounting arm, shock mount, and pop screen.
Zoom Digital Recorder:
The Zoom H2n Handy Recorder is the only portable recording device to come with five built-in microphones and four different recording modes: X/Y, Mid-Side, 2-channel surround and 4-channel surround. Other advanced features include automatic gain control and onboard MS decoding, plus effects like compression, limiting and low cut filtering.
Audio-Technica Lavalier Microphone:
This microphone is a newscaster-style omnidirectional lapel mic engineered for intelligible, accurate voice reproduction. This high-quality condenser is ideal for vlogging due to its low profile design which assures minimum visibility.
Shure VP64A Vocal Microphone:
High-output omnidirectional handheld dynamic microphones designed for professional audio and video production. Ideal for close-up use and can be used outside as well as indoors, well-suited to location interviews and can be plugged into any standard AUX port as well as XLR.
Sewing Machines
Husqvarna Viking H Class E20 Sewing Machine:
Reliable Swiss-made mechanical sewing machine for all your sewing and alteration needs. This machine has 32 fun and practical stitches, including utility stitches, decorative stitches and stretch stitches, a one step buttonhole, and simple threading. Comes with a practical rolling case, presser foot, and accessories. Thread not provided.
Husqvarna Viking Amber S100 Serger/Overlock Machine:
No sewing project is complete without a strong serged edge! This overlock machine has 4, 3, 2 thread capability with 16 different stitches to help you complete any project. Both the left and right front covers open to provide complete access to the looper area, making it super easy to thread. The differential feed gives you perfectly even seams - no stretching or distortion on knits or puckering of finer fabrics, and it can also be used for gathering. Comes with a rolling case, presser foot, and accessories. Thread not provided.
Projectors
AAXA M7 LED Pico Projector:
Native 1080P resolution, ultra portable projector works with HDMI, USB Type-C, 3.5 composite video input, microSD and USB inputs which allow playback fusing an onboard media player. Onboard premium speaker delivers vibrant sound.
Tripods and Stands
Smith-Victor P800 Tripod:
Supports up to 5.0 lb, and includes a two-way, pan-and-tilt head. Its 3-section legs each feature flip locks for fast deployment, and can be positioned for a minimum height of 20.5" to a maximum height of 42.0", or 50.7" with its column fully raised. The center brace helps to hold the legs in place, which include rubber feet to further enhance stability on a wide variety of surfaces.
Manfrotto PIXI Mini Tripod:
This mini tripod is designed for compact system cameras and can also be used with mobile phones with a compatible mobile phone clamp. It has collapsible legs, a comfortable handgrip, and a push button locking mechanism for easy setup and adjustment.
Universal Smartphone Clamp:
This device enhances the photographic potential of any smartphone device. It has an easy to use twist movement and locking knob for great stability. This clamp has a universal tripod adapter on its base, which allows most smartphone devices to be used with any standard tripod.
Zhiyun Smooth 3 Smartphone Gimbal:
This electronic 3-Axis gimbal allows for smooth and stable smartphone video recording. It has an internal accelerometer and gyroscope, as well as a 2-way phone clamp that permits balanced and stable video for both vertical and horizontal recording. Charged via USB cable, it is capable of operating for up to 14 hours.
Studio Equipment
Ring Light - 12" Savage White and RGB Color:
This versatile light source is great for both photography or video applications. Tabletop, compact, portable, this clever ring light incorporates 36 RGB colors, as well as standard white light with warm/cool temperature control. Brightness, color, and tone can be adjusted using the built in control switch.
Portable Green Screen - Angler 5'x 7':
Spring loaded roller allows for fast and easy setup of the screen which is attached to an internal scissor frame. Swivel feet provide a solid base for this portable screen
Contact Info
Edmon Low Creative Studios
(405) 744 - 7615
lib-cs@okstate.edu
Complementary Components
What do you want to do?
Ideal Components for:
Vlogging Kit

Lavalier Microphone

Mini Tripod

Smartphone Clamp

Smartphone Gimbal

LED Ring Light

Portrait Photography Setup

Canon Rebel DSLR

Smith-Victor Tripod

LED Ring Light

Video Documentary Setup

Canon Camcorder

Shure Vocal Microphone

Smith-Victor Tripod

LED Ring Light

Audio Interview / Podcast

Rode Podcaster

Zoom H2n Recorder

or Shure Vocal Microphone
Creative Studios Statement of Responsibility
Additional Devices
ASUS BluRay Burners

Multi-Region DVD Players

TV + VHS Player

Audio Cassette Player

Typewriter

Microfilm Reader