Edmon Low Creative Studios: Tech to Go
Edmon Low Library strives to ensure that patrons have access to a wide array of items for their academic and personal pursuits. From available textbooks that can be checked out to on the go devices that allow for creativity in both the classroom and outside of it, patrons can find something to fit their interests and time.
Most handheld devices can be checked out for 3 days at a time.
Available Devices
Go Pros
HERO4 Black has a powerful processor that delivers super slow motion at 240 frames per second. High-resolution 4K30 and 2.7K60 video combines with 1080p120 and 720p240 slow motion to enable immersive footage. Unlock manual control of Color, ISO Limit, Exposure and more. Waterproof to 131' (40m) with 12MP photos at 30 frames per second and improved audio.
Digital Cameras
Nikon Coolpix point and shoot cameras are ultra-slim with Full HD 1080p video, watch or view instantly on a compatible smartphone or tablet with built in WiFi. Maximum zoom power with a 12x optical zoom and 24x Dynamic Fine Zoom.
Camcorders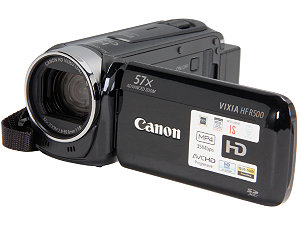 Compact and easy-to-use, equipped with a Genuine Canon HD Video Lens with 53x Advanced Zoom for incredible range and reach. Canon's exclusive 3.28 Megapixel Full HD CMOS Image Sensor and all new DIGIC DV 4 Image Processor bring video to life with more light, depth and detail. Record Full HD video directly to a removable SD memory card that is easy to use.
Microphones and Stand Mics
Yeti Blue: Yeti features studio controls for headphone volume, pattern selection, instant mute and microphone gain. If experiencing distortion or feedback while recording an especially loud source, simply adjust the microphone's sensitivity with the gain control.

Handy Recorder: The Zoom H2n Handy Recorder is the only portable recording device to come with five built-in microphones and four different recording modes: X/Y, Mid-Side, 2-channel surround and 4-channel surround. Other advanced features include automatic gain control and onboard MS decoding, plus effects like compression, limiting and low cut filtering.
Projectors
The InFocus LightPro IN1146 mobile LED projector features a 30,000-hour light source and beams 1000 lumens of brightness. At about the size of a paperback book and only two pounds, the IN1146 is easy to pack in a bag and carry for any on the move projects.
Creative Studio Hours
Monday to Thursday
8:00 AM to 2:00 AM
Friday
8:00 AM to 5:00 PM
Saturday
1:00 PM to 5:00 PM
Sunday
1:00 PM to 2:00 AM
---
Room 105
(405) 744 - 7615
Shannon Garde
Technology Specialist
(405) 744 - 6312
shannon.garde@okstate.edu
Additional Devices
Accessories
ASUS BluRay Burners

Tripods for camcorders

Extending arm attachment and chest harness for Go Pro's