Edmon Low Creative Studios: Tech to Go
The Edmon Low Creative Studios strives to ensure that patrons have access to a wide variety of items to suit their academic and personal creative endeavors. Devices are available on a first come first serve basis and can be checked out for three days.
Cameras & Camcorders
Canon Rebel EOS T6: Ideal for users seeking to enhance their photography skills. Featuring an 18.0 Megapixel CMOS image sensor, as well as the DIGIC 4+ Image Processor, it allows for highly detailed, vibrant shots and videos even in difficult situations. Whether out on an adventure, or capturing pictures of special moments with friends and family, the EOS Rebel T6 is easy to use.
Go Pro Hero 4: HERO4 Black has a powerful processor that delivers 4K30, 2.7K60, 1080p120 video, and even 720p240 video for super slow-motion playback and 12MP photos at up to 30 frames per second. Built-in Wi-Fi and Bluetooth® Smart Remote and various mounts included with the checkout package. Optional chest harness and selfie-stick available by request.
Nikon Coolpix Point and Shoot: Nikon Coolpix point and shoot cameras are ultra-slim with Full HD 1080p video, watch or view instantly on a compatible smartphone or tablet with built in WiFi. Maximum zoom power with a 12x optical zoom and 24x Dynamic Fine Zoom.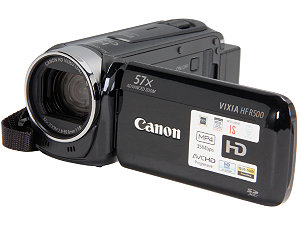 Canon Vixia Camcorder: Compact and easy-to-use, equipped with a Genuine Canon HD Video Lens with 53x Advanced Zoom for incredible range and reach. Record Full HD video directly to a removable SD memory card that is easy to use.
LG 360 Camera: The LG 360 Camera has dual wide angle 13mp camera sensors that record 2K 360 video and audio effortlessly. No need to stitch your captured footage together, the device does it automatically. Featuring 5.1-channel surround sound, you can upload your footage to Google Street View, Youtube 360, or make your own 360 tour! Requires the LG 360 app be downloaded to your smart phone.
Google Glass Explorer Edition: A computer that you can wear like glasses. Google only released a limited number of these devices and access was only given to a select few technology reviewers, android app developers, and educational institutions. This is your opportunity to get your hands on a new technology that almost no one else on the planet has experienced.
Microphones and Recorders
Zoom: The Zoom H2n Handy Recorder is the only portable recording device to come with five built-in microphones and four different recording modes: X/Y, Mid-Side, 2-channel surround and 4-channel surround. Other advanced features include automatic gain control and onboard MS decoding, plus effects like compression, limiting and low cut filtering.
Yeti Blue: Yeti features studio controls for headphone volume, pattern selection, instant mute and microphone gain. If experiencing distortion or feedback while recording an especially loud source, simply adjust the microphone's sensitivity with the gain control.
Shure VP64A Vocal Microphone: High-output omnidirectional handheld dynamic microphones designed for professional audio and video production. Ideal for close-up use and can be used outside as well as indoors, well-suited to location interviews and can be plugged into any standard AUX port as well as mono connectors.
Projectors
AAXA M6 LED Pico Projector: has a native 1080P resolution, a 90 minute battery, VGA, HDMI, TF Card, and a USB port built in to allow playback from many sources using an onboard media player. Onboard premium speaker delivers vibrant sound.
Tripods
Smith-Victor P800 Tripod: supports up to 5.0 lb, and includes a two-way, pan-and-tilt head. Its 3-section legs each feature flip locks for fast deployment, and can be positioned for a minimum height of 20.5" to a maximum height of 42.0", or 50.7" with its column fully raised. The center brace helps to hold the legs in place, which include rubber feet to further enhance stability on a wide variety of surfaces.
Creative Studio Hours
Monday-Thursday: 8am-2am
Friday: 8am-5pm
Saturday: 1pm-5pm
Sunday: 1pm-2am
---
Edmon Low Creative Studios
(405) 744 - 7615
lib-res@okstate.edu
Creative Studios Statement of Responsibility
Additional Devices
Additional Devices
ASUS BluRay Burners

Multi-Region DVD Players
TV + VHS Player
Typewriter
Microfilm Reader